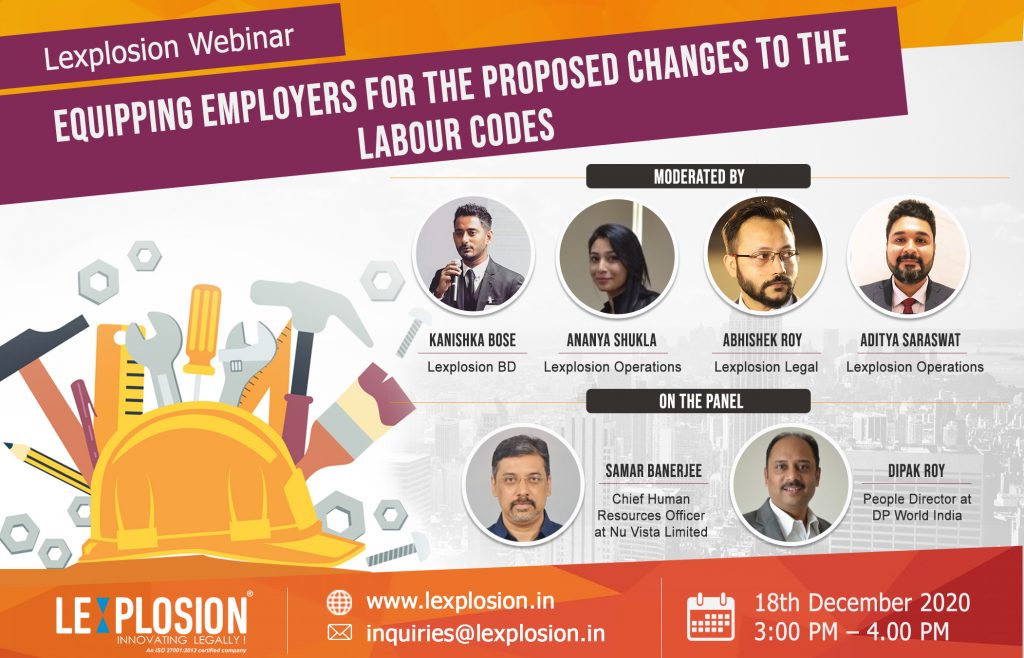 Equipping employers for proposed changes to the Labour Codes
In this webinar, we have focused on equipping the employers for the proposed changes emanating from the four Labour Codes. We discussed some of the pressing matters in both micro and macro level. We have been joined by some of the best industry luminaries as both panellists and attendees.
Our panellists for the session were Dipak Roy, who is the People Director at DP World and Samar Banerjee, who is the Chief Human Resources Officer at Nu Vista Limited.
Watch the video, to see how we dissect the various methods by which employers can equip themselves for the proposed changes emanating from the Labour Codes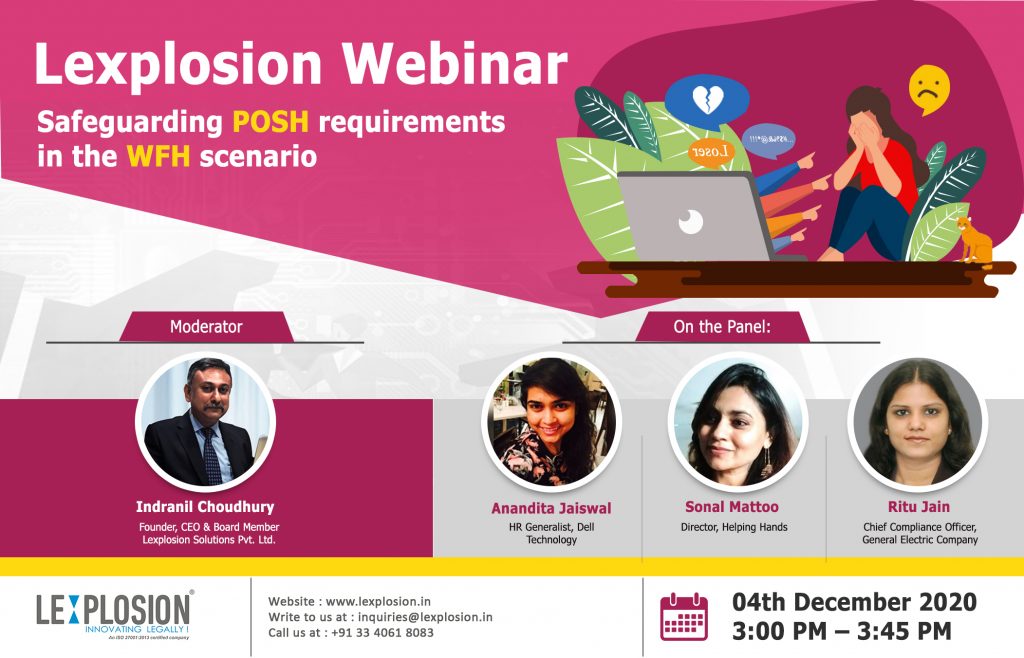 Safeguarding POSH requirements in the WFH scenario
In this webinar we have discussed the obligations and concerns emanating from the Sexual Harassment of Women at Workplace (Prevention, Prohibition and Redressal) Act 2013 in light of the current work-from-home scenario during the subsisting pandemic. This session has been moderated by Indranil Choudhury, CEO Lexplosion Solutions Pvt. Ltd. and joined by Ritu Jain, Chief Compliance Officer for GE Asia region, Sonal Mattoo, Director, Helping Hands and Anandita Jaiswal, HR Generalist for Dell Technology.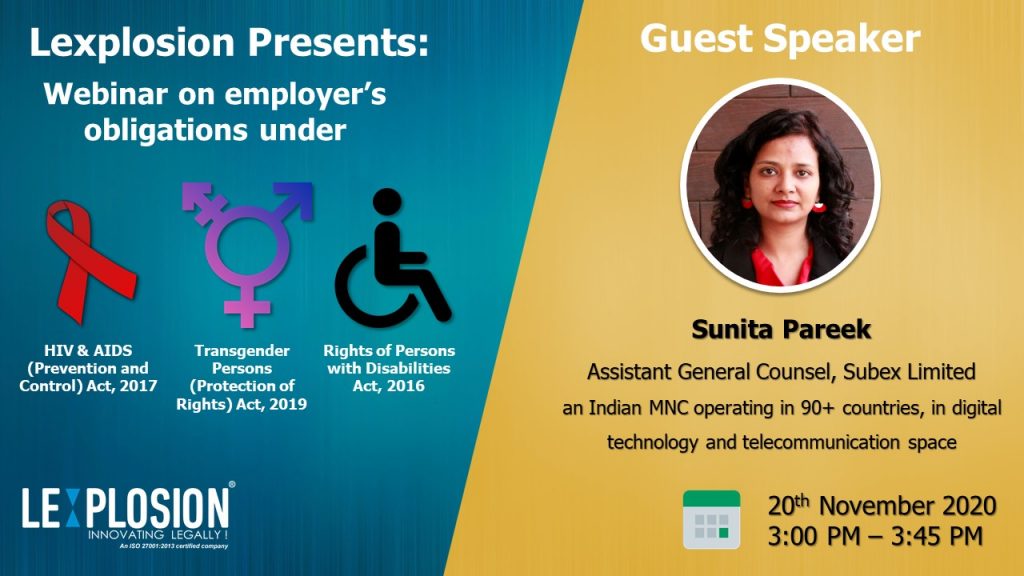 Employer's obligations under minority protection & non-discrimination statutes
Over the last 4 years, our country witnessed the enactment of three legislations aimed at stopping discrimination against certain groups:
a. Rights of Persons with Disabilities Act, 2016,
b. Human Immunodeficiency Virus and Acquired Immune Deficiency Syndrome (Prevention and Control) Act, 2017 and
c. Transgender Persons (Protection of Rights) Act, 2019. All three laws cast clear and interesting obligations on employers.
However, there is still a certain degree of uncertainty and confusion over their implementation.
In this webinar we will attempt to address the roles and obligations of employers under these legislations. We are proud to host Ms. Sunita Pareek, Assistant General Counsel, Subex Limited, who will share her thoughts on these enactments and the practical experience of implementing them.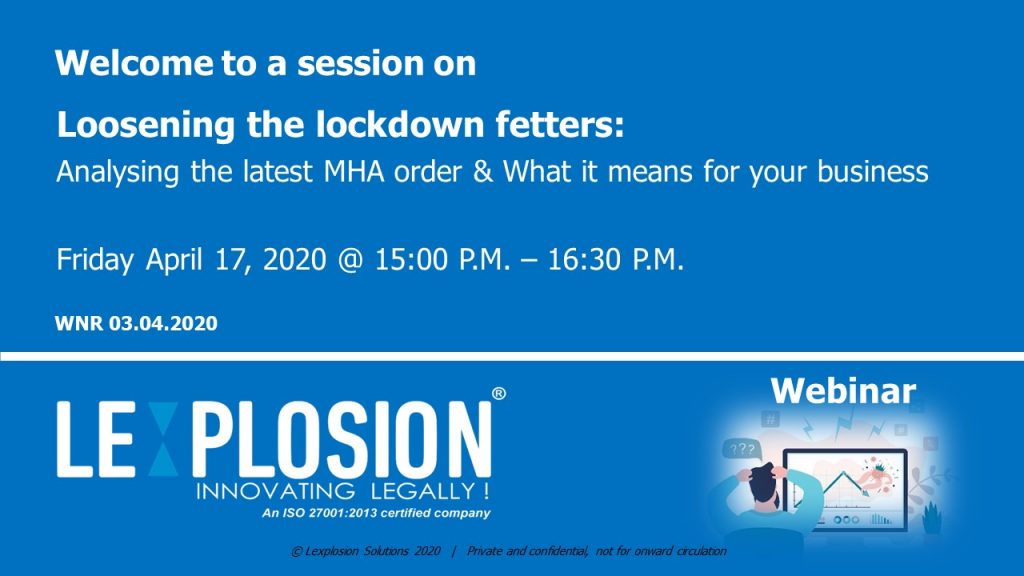 Loosening the Lockdown Fetters
With the outbreak of the Novel Coronavirus (Covid 19) disease in India and the world, organizations are having to change the way of doing business very quickly from travel bans, to work from home advisories, to slowing down production to name a few. These urgent changes may not always leave time for some of you to consider the legal and compliance implications of such actions. In this context, instead of hosting the March Webinar on legal and compliance updates, Lexplosion will be conducting a webinar on March 27th exclusively to explore how prepared the Indian regulatory regime is to handle business exigencies in situations like these. For example, are our compliances relating to attendance and leave geared towards work from home considerations? There are many consents, registrations and renewals which still require submission of physical forms. How does that happen when a city/state/country is experiencing a near complete lockdown?
Check out the answers to all these questions.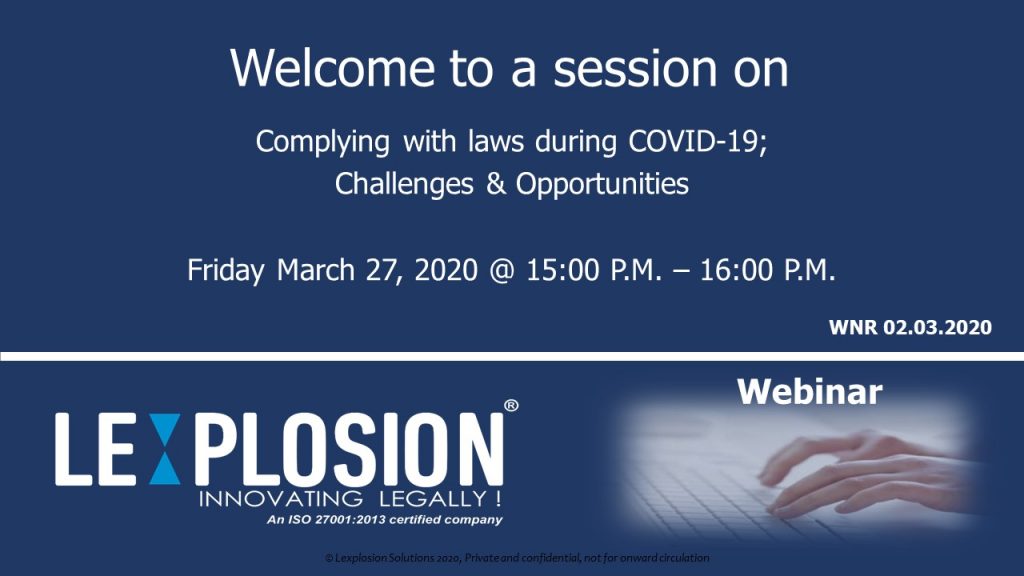 Complying with Laws during COVID-19: Challenges and Opportunities
In this Webinar, we breakdown and analyse the implications of the Lockdown Order passed by the Ministry of Home Affairs on 15 April, 2020. Our analysis is on these fronts:
Section 1: What remains locked down
Section 2: Key Additional Exemptions: Am I Included?
Section 3: SOPs for Exempted Businesses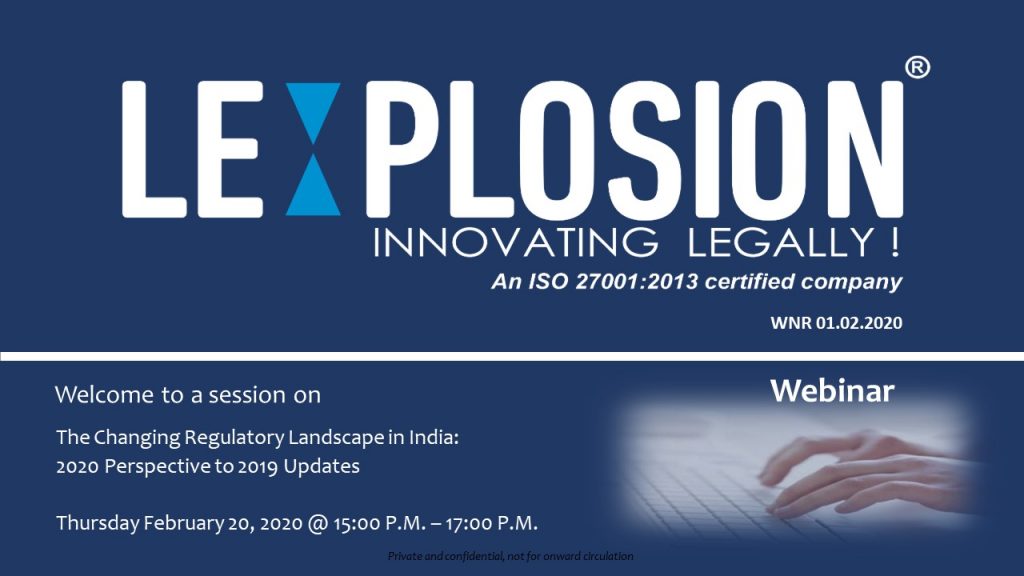 The Changing Regulatory Landscape in India: 2020 Perspective to 2019 Updates
The Lexplosion Updates team presents this webinar on the important and key legislative amendments and updates carried out in 2019 and the impact they might have for 2020. The team also analyses the major Legislative changes expected in the first half of 2020.
In this webinar we cover the following areas:
1. Labour
2. Tax
3. Corporate
4. Operations
5. Q&A
Subscribe for Upcoming Webinars