In modern times, motherhood is often a double-edged sword – while it brings with it life-changing joy and excitement, it is also accompanied by hard choices and trade-offs between focusing on career and being the primary care-giver for the newborn. Current socio-economic norms and workplace biases often lead child-bearing, working women to a career crossroad.  These concerns often compel working women to choose between sabbaticals or even quitting their professional career.
The 2017 amendments to the Maternity Benefit Act 1961, while being a positive step in empowering women to continue with their career post-childbirth, still lack clarity around the Crèche provisions – for both working women and employers. Section 4(1) of the Maternity Benefit (Amendment) Act, 2017 (MBA) mandates every establishment employing 50 or more employees, to provide a crèche facility within such distance as may be prescribed (in the State Rules). However, in the eighteen months since the MBA amendments are notified and the provisioning of Crèches being made mandatory and despite the Ministry of Woman and Child Development's (Ministry) insistence on implementing the Rules quickly, as of today only 2 States in India (Karnataka and Haryana) have drafted the requisite, complementary Rules while not a single State has enacted/notified them yet. This leaves a tremendous lacuna in compliance and is certainly not achieving the goals or objectives of the MBA.

On 2nd November, 2018, a small step was taken in the right direction with the Ministry issuing the National Minimum Guidelines for setting up and running Crèches under the Maternity Benefit Act, 2017(NMG). The NMG has been established to facilitate the employer to establish and manage the crèche facility and to enable good quality and affordable childcare for their employees. While this does not have the effect of law and is merely recommendatory for companies/employers to follow, it can be a playbook for States to adopt and employers to base their plans on.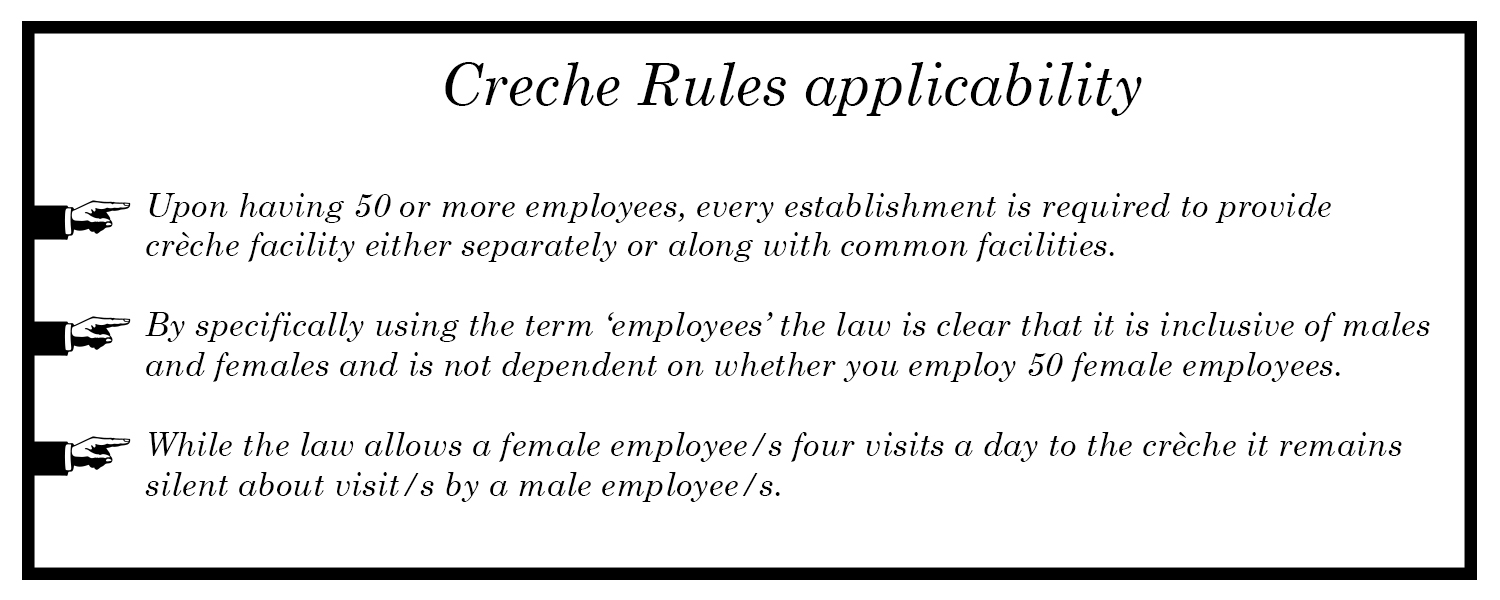 In this blogpost we want to walk you through the key highlights and differences between the provisions of the NMG and the draft rules rolled out by the Karnataka and Haryana State Governments.
Particulars
NMG
Karnataka State Rules
Haryana State Rules
Applicability
children of age group of 6 months to 6 years
children who are below the age of 6 years
for use of children (below 6 years)
Extension
extends to children of all employees including temporary, daily wage, consultant and contractual personnel.
No mention
Extends to children of regular, temporary, daily wagers, contractual, consultant and other such employees.

Location
Within 500 metres of the workplace
Within 500 metres of workplace. Further, should not be near an establishment where obnoxious fumes, dust or odours are given off or where it is excessively noisy.
Within 500 metres of workplace
Timings
crèche must be open for 8 hours to 10 hours based on the working hours of the parents.

working hours of the crèche shall correspond to the working hours of the mothers, spread over a period not exceeding eight hours a day.
crèche must remain open all times, both in day and night while employees are working in the establishment.

Infrastructure
crèche centre must have a minimum space of 10 to 12 sq. ft. per child. It further states that there should be no unsafe places like open drains or pits near the centre. Also, the centre must have a safe and potable drinking water source with a water purifier installed.
Flooring and height of walls must be up to 5ft, and having decent cement surface. Further, it says that the facility is to be periodically checked for its safety and under sanitary conditions, and a kitchen must be attached to the crèche with utensils and other facilities for boiling milk and cooking etc.
Crèche must mandatorily have a minimum space of 6-8 sq. ft. per child to ensure that they can play, rest and learn without any difficulty.

The environment in a crèche
Crèche should have bright, cheerful and child accessible displays of essential play and teaching / learning material; Daily schedule, child safety and essential norms, and other relevant material have to be displayed on the walls.
Amenities such as cradles or cots, beds or mattresses, cotton sheets, rubber sheets (for children below 3 years), blankets, pillow with covers, child-friendly furniture and first aid kit must be provided.

Amenities like first aid and medicine kit, cradles, cot with bedding cooking facilities, cooking utensils, utensils to feed the children, chair or sitting accommodation for use of each mother for feeding or attending to her child, toys or play materials and teaching or learning materials have to be provided.
Human Resource for Monitoring and Supervision
For a crèche unit having up to 30 children, the recommended adult: child ratio to look after and monitor the children is 1:10 for the under 3s, plus one helper and 1:20 for the 3 to 6 years, plus one helper; Minimum wages as per the State norms for social security must be paid as Salary / remuneration of the workers. It further mentions that all the crèche personnel require being adequately trained and selected basis their skill set in the relevant field.

A woman with midwifery qualification must work as crèche attendant and in case of more than 10 children, such crèche attendant is to be assisted with one ayah.

1 for 5 children of upto 1 year age

2 for every 10 children of upto 3 years of age

3 for every 15 children of upto 3 years of age

The Rules doesn't state the exact number of staff required but it states that a female attendant, cook, sweeper and chowkidar must be employed for attending to children in the crèche. A trained crèche-nurse is to be employed, who will ensure that the crèche is kept in a clean and sanitary condition and that all children attending it are properly looked after, washed and fed in accordance with the provision of these rules and that they are taught clean and healthy habits. Also, monthly medical examination of children attending the crèche and that of nursing mothers every two months would be made by a qualified medical practitioner.
Outdoor play area
No mention
The Draft Karnataka Guidelines have a special provision which does not exist in the other two guidelines / rules, i.e. an outdoor play area to be provided which is safe, secure, well maintained and exclusively for the use of children during operating hours in case, children use playground/park, the employer must ensure safety and security of children.
No mention
We earlier covered how the government is rolling out a plethora of women focussed initiatives – ranging from the security and safety to working hours and family balance – initiatives are on the rise, but clarity in operating/adhering to requirements of the law, is the need of the hour. We look forward to the Crèche Rules being rolled out by all states soon and will keep you updated.
Authors:
Antara Dasgupta (Asst. Vice President, Legal Operations)
Anchit Chaturvedi (Associate, Legal Operations)
Anurag Mitra (Associate, Legal Operations)
Disclaimer
All material included in this blog is for informational purposes only and does not purport to be or constitute legal or other advice. The Blog should not be used as a substitute for specific legal advice. Professional legal advice should be obtained before taking or refraining from an action as a result of the contents of this blog. We exclude any liability (including without limitation that for negligence or for any damages of any kind) for the content of this blog. The views and opinions expressed in this blog are those of the author/(s) alone and do not necessarily reflect the official position of Lexplosion. We make no representations, warranties or undertakings about any of the information, content or materials provided in this blog (including, without limitation, any as to quality, accuracy, completeness or reliability). All the contents of this blog, including the design, text, graphics, their selection and arrangement, are Copyright 2018, Lexplosion Solutions Private Limited or its licensors.
ALL RIGHTS RESERVED, and all moral rights are asserted and reserved.