Over the last seven-eight decades, packaged food items have come to take an extremely significant place in our lives today. Due to the miraculous scientific and technological advancements, humans have been able to vastly extend the gestation period, shelf life, territorial extent and affordability of food and food products. Even one generation ago, it was inconceivable to be able to affordably source ingredients like fresh Vietnamese fish, Japanese herbs and grains, Mexican spices and plants, Belgian chocolates handcrafted in Europe; today one merely needs to walk into the nearest multi-brand supermarket to fetch these.  On an average, 80-90% of food or food products found in the household of a typical urban kitchen will most certainly comprise packaged commodity/ies. Thanks to the convenience of Big Basket and Grofers, even fresh vegetables can now arrive tightly wound in clingwrap.
Moreover, after a hectic schedule and a tiring day at work, one neither has the time, nor the patience for the traditional customary bazaar visits like those that used to be done by our fathers and grandfathers, nor does one have the inclination to cook themselves. Simply picking up a ready to eat food package solves the purpose. Thus, paving the way for the ever- increasing use of and demand for packaged and processed food products.
Though packaged food products have made food items easily accessible and varied, they come with their own limitations. In order to give effect to durability and lasting, food products in packages contain preservatives and additives. Consequently, while their shelf life is greatly increased, they need to be disposed of after a certain point. Not consuming it within a specified time can lead to several health issues such as digestive disorders, diarrhoea and food poisoning, allergies and arguably even cancer despite the look, feel and taste of it remaining unchanged. Therefore, regulators rightly feel that it is imperative to inform consumers the date till when the food products they are buying are suitable to consume. In India, all food laws are governed by the Food Safety Standards and Authority of India (FSSAI).
Before the advent of distinct and separate branch of food laws regulated by the FSSAI, the Ministry of Health and Family Welfare governed the Prevention of Food Adulteration Act, 1954 and Prevention of Food Adulteration Rules, 1955, both of which stands repealed today. The latter, however did define the terms "Best Before" and "Use By" but did not talk about its implementation. In order to better handle this situation , the FSSAI in the Food Safety and Standard (Packaging and Labelling) Regulation of 2011 ("FSS Regulations"), without significantly changing the meaning of the terms, gave these concepts a new shape and elaborated on the procedural aspect of it. The FSS Regulations has now identified the requirements to be complied with, under specific circumstances and has also set parameters for such requirements. For instance, according to Regulation 26.1, para 4, foods with shelf-life of below seven days, the 'date of manufacture' is optional on the label of packaged food articles, but the 'use by date' is a mandatory requirement on the label by the manufacturer or packer. Then, para 2 of the same Regulation, states that the 'date of manufacture' or 'best before date' or 'expiry date' is optional on a package having surface area of less than 30 square centimetres but such information must be provided on the wholesale packages or multipiece packages.
Regulation 9 of the FSS Regulations, caters to products which has a shelf life of more than three months and for such products the date, month and year in which the commodity is manufactured or prepared or pre-packed needs to be mentioned on the label, and commodities having a shorter shelf life of less than three months, the labelling requirement includes the date, month and year in which the commodity is manufactured or prepared or pre-packed.
The definition provision (Regulation 1.2.1) of the FSS Regulations in para 1 defines the term Best before" and para 10 on the other hand talks about "Use by" in the manner mentioned below:
"Best before" "Best before" means the date till which the food will remain fully marketable and will retain any specific qualities for which express claims have been made, but beyond such date, the food may still be perfectly safe to consume, though its quality may have diminished. However, the food will not be sold if it can be perceived that the food has become unfit for consumption.
"Use by" "Use – by date" or "Recommended last consumption date" or "Expiry date" means the date, after which the food probably will not have the quality and safety attributes normally expected by the consumers and such expired food product will not be allowed to be sold.
These two terms are mandated declarations to be printed on the label of the packaged food products regarding the ideal time by when food should be consumed or not consumed beyond an expiry date.
Some important aspects regarding the declarations from Regulation 10 of the Food Safety and Standard (Packaging and Labelling) Regulation of 2011 are as follows:
In case of package or bottle containing sterilised or Ultra High Temperature treated milk, soya milk, flavoured milk, any package containing bread, dhokla, bhelpuri, pizza, doughnuts, khoa, paneer, or any uncanned package of fruits, vegetable, meat, fish or any other like commodity, the declaration to be made should contain the following information:
"BEST BEFORE ………. DATE/MONTH/YEAR" OR "BEST BEFORE……..DAYS FROM PACKAGING" OR "BEST BEFORE …….. DAYS FROM MANUFACTURE" [Regulation 10(ii)]
On packages of Aspartame, instead of Best Before date, Use by date/recommended last consumption date/expiry date will have to be declared, which will not be more than three years from the date of packing. [Regulation 10(iii)]
In case of infant milk substitute and infant foods, instead of Best Before date, Use by date/ recommended last consumption date/expiry date needs to be declared. [Regulation 10(iv)]
In case of wines, liquor or alcoholic beverages containing 10 percent or more by volume of alcohol, no such declaration regarding best before date for consumption will be required to be given. [Regulation 10(iv)]
Consequent to a 2017 amendment brought to Rule 6 the Legal Metrology (Packaged Commodities) Rules, a new sub-clause "da" was added in Rule 6(1)(d) where if a package contains a commodity which may become unfit for human consumption after a period of time, the 'best before or use by the date, month and year' needs to be mentioned on the label. However, a proviso to this clause clarifies that if a provision in this regard is made in any other law, then this new sub-clause will not apply. So, in that case, the FSS Regulations will prevail over this requirement.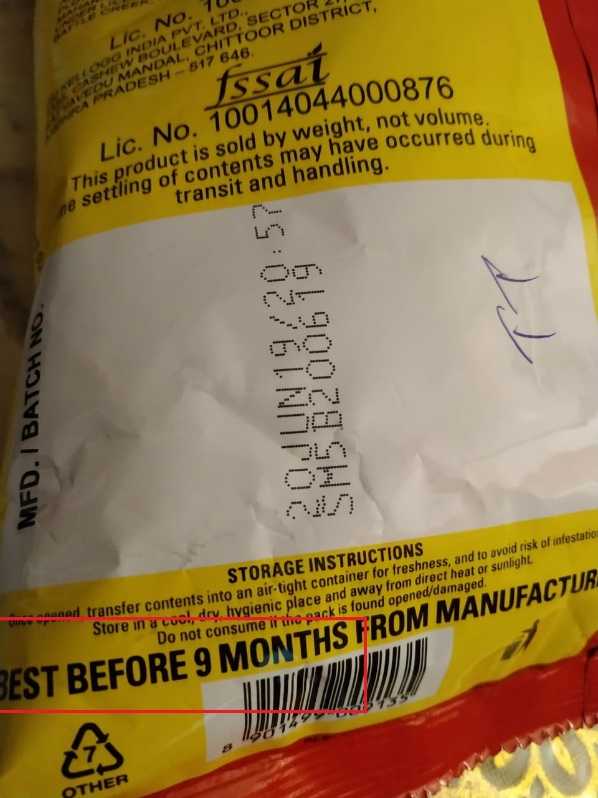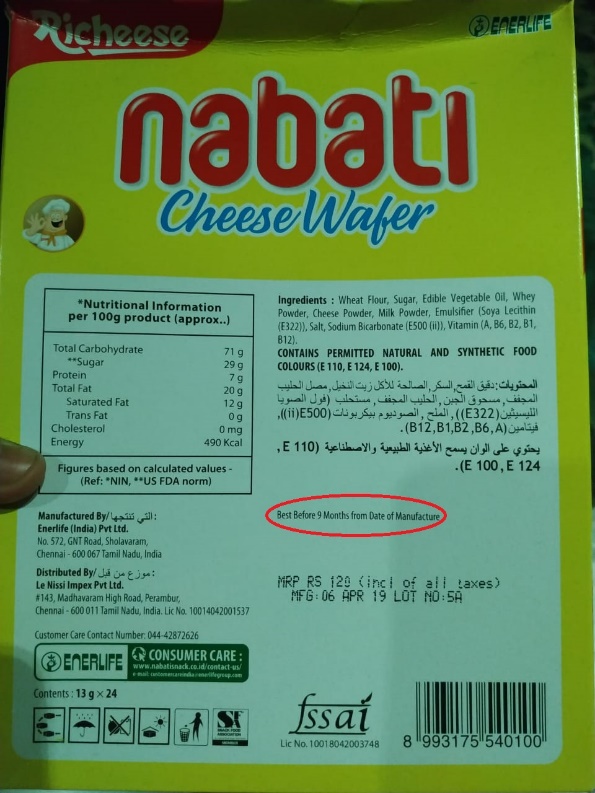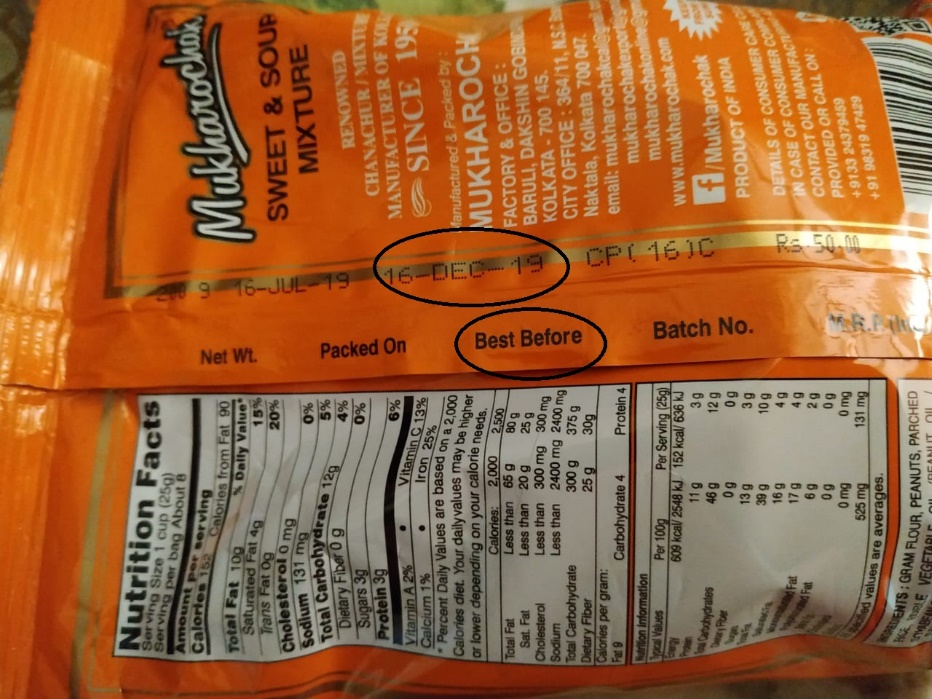 However synonymous the connotations "Best before" and "Use by" might sound, these semantics differ largely. The former is a mild forewarning that the packed food will remain edible and suitable for consumption till the 'Best before date' if kept under specified storage conditions. The food will still be fit for selling even though the quality might have undergone a change. The latter on the other hand is a solemn admonition. It signifies the end of the estimated period under any stated storage conditions after which the packed food probably will not have retained the desired quality and safety attributes of normal expectations. The food will also not be fit for selling and marketing purposes.  Simply put, never consume anything beyond the use by date and be weary of food products beyond their best before date.
Therefore, Caveat Emptor!
Author:
Sristy Ghosh (Legal Associate, Lexplosion Solutions Private Limited.)